cinnabar
thoughts on mushroom hunting, a cookie recipe
Thank you for being here for the first installment of Food Notes. I've found myself here, just as you have, awaiting for what this may become . . .
✻
hunting for cinnabar
These days I'm charading as a mushroom hunter. After many conversations with my mentor and friend Bill, who has recently reignited his foraging hobby, and making my way through The Mushroom at the End of the World by Anna Lowenhaupt Tsing, I felt like the push to go into the woods was obvious and right in front of me.
⋆
When I was younger, I lived half of my time in imaginary worlds: many of them centered around a rock a few paces into the woods behind the house I grew up in. I named it Pittard Rock: the center of my family fortress. On the far side of Pittard Rock, there was an alcove that became my "oven", in which I shoved pine needles, shiny rocks, mossy growth, and other forest findings. I then made my friends and siblings pretend to eat dinner.
At school, there was a single wild berry tree on the fenced-in playground field that I dubbed The Berry Hut. I created a menu with descriptions of berry-centric creations using ClipArt stock images and printed out copies to pass out to everyone on the playground, inviting them to dine at my recess restaurant.
Whether at home or school, the center of my worlds was always the kitchen. I delighted in conjuring up what the new special at the Berry Hut could be: Savory Berry Soup, Green Berry Pie, Berry Baby Food Surprise (for my friends who insisted on visiting the restaurant as infants). Anything glittery or colorful or soft that I found while clearing up paths around Pittard Rock became a new ingredient to incorporate into my "meals".
⋆
The past few weeks I have gone out several times to forage, taking a companion along with me each time. I began not knowing much except for the fact that Cinnabar Chanterelles (or Red Chanterelles or Cantharellus cinnabarinus) are small edible mushrooms that are bright red in color—easy to spot amongst the greenery or in-between fallen leaves. Bill had been bringing home bounties of this variety and sending me pictures. So, I set out in hopes of finding some for myself.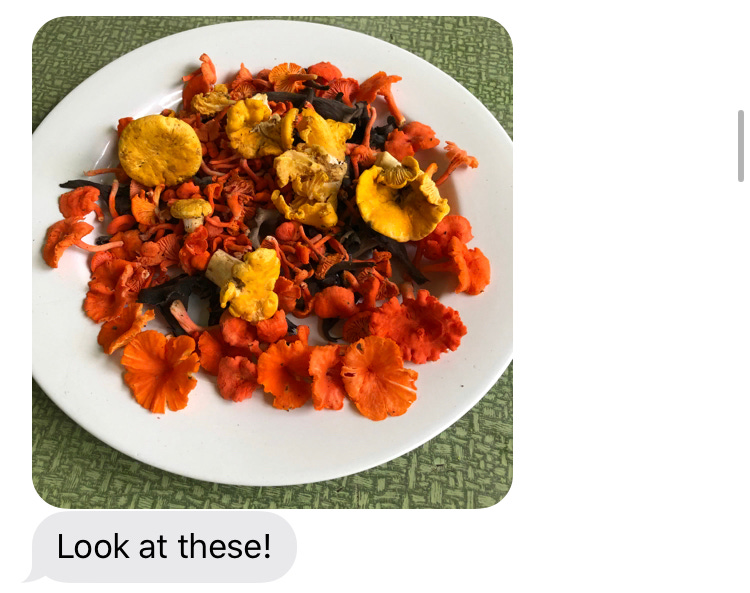 And, sure enough, after a couple of hours walking through the woods and only finding a few clusters of rotting or half-munched on mushrooms, we spotted them: Cinnabar at the edge of the moss!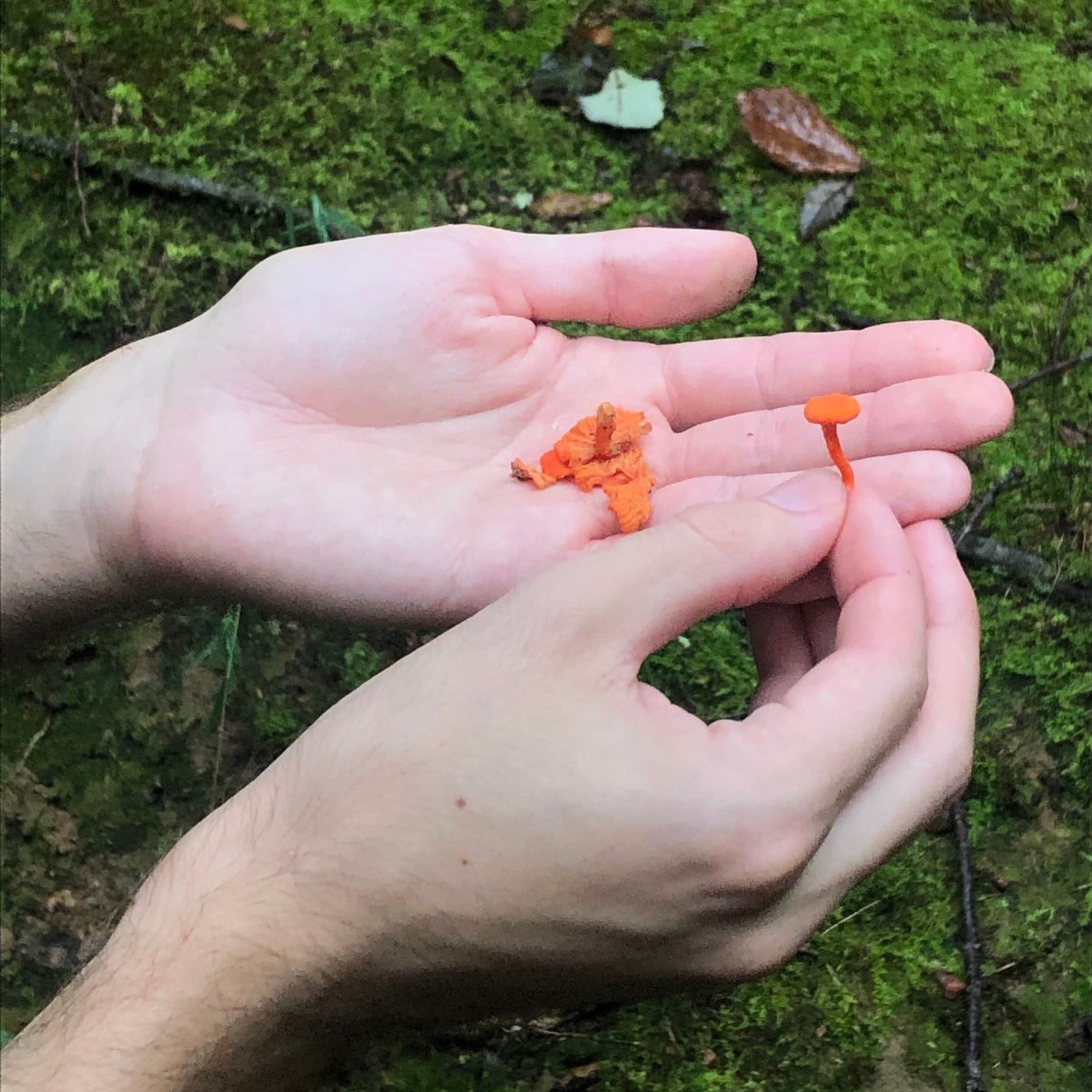 This feeling of finding Cinnabar in the forest felt like I was accessing the part of myself that was creating make-believe kitchens as a 10-year-old. When walking through the woods with this new eye of attention, I have miraculously forgotten where I am. Certainly I haven't wandered off trail, but it seems I have, captivated by a glint of red, peaking beneath the brush.
⋆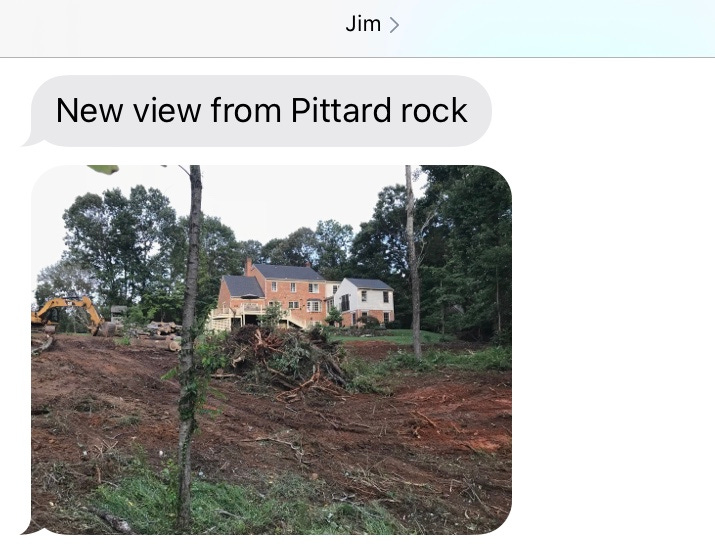 Pittard Rock and the surrounding forest was destroyed by a tornado a couple of years ago. It had probably been a decade and half since I forged through the woods, making it my own and playing out scenarios in my head, but I still deeply felt this loss. Recently, I've noticed that my sense of wonder has become clouded; my attention span, waning. In the search for Cinnabar, I'm finding new ways of looking and being present outside. I've slowly started spotting other kinds of mushrooms. They seem to all have their own personalities: milky caps, honey mushrooms, the sickener … I've begun to observe patterns of growth, sensing when the air feels more humid, instinct tells me a mushroom may be nearby. Suddenly, I'm in the woods again, imagining what could be.
✻
chocolate chip cookies w/ brown butter + praline
If you spend enough time with me, you'll quickly learn that I make cookies a lot. And, while I occasionally experiment with the double chocolate or brown sugar cinnamon, in the majority of cases I'm likely sticking to the reliable and inviting chocolate chip. For the past year, I have been trying to conquer this cookie and make a version that felt like my own. Because of this, I have developed the ritual of returning to the kitchen about once a week, drawn by some pull to make it just right.
It became apparent to me recently that a perfect chocolate chip cookie has to incorporate hazelnuts. While blanched and toasted hazelnuts definitely made a delicious addition (try it!), there were still bites that just didn't hit like I wanted them to. I had tried Nutella swirls, but that just got mixed up into the dough and honestly was weird. Then, I got the idea for praline stuck in my head. Praline seemed like a confident alternative to Nutella. So, I made praline paste, and yeppppp that was it. After so many iterations of this cookie recipe, I got the feeling that it had reached its peak moment.
So, I thought it was only appropriate to share the outcome of this feat in the first ever Food Notes: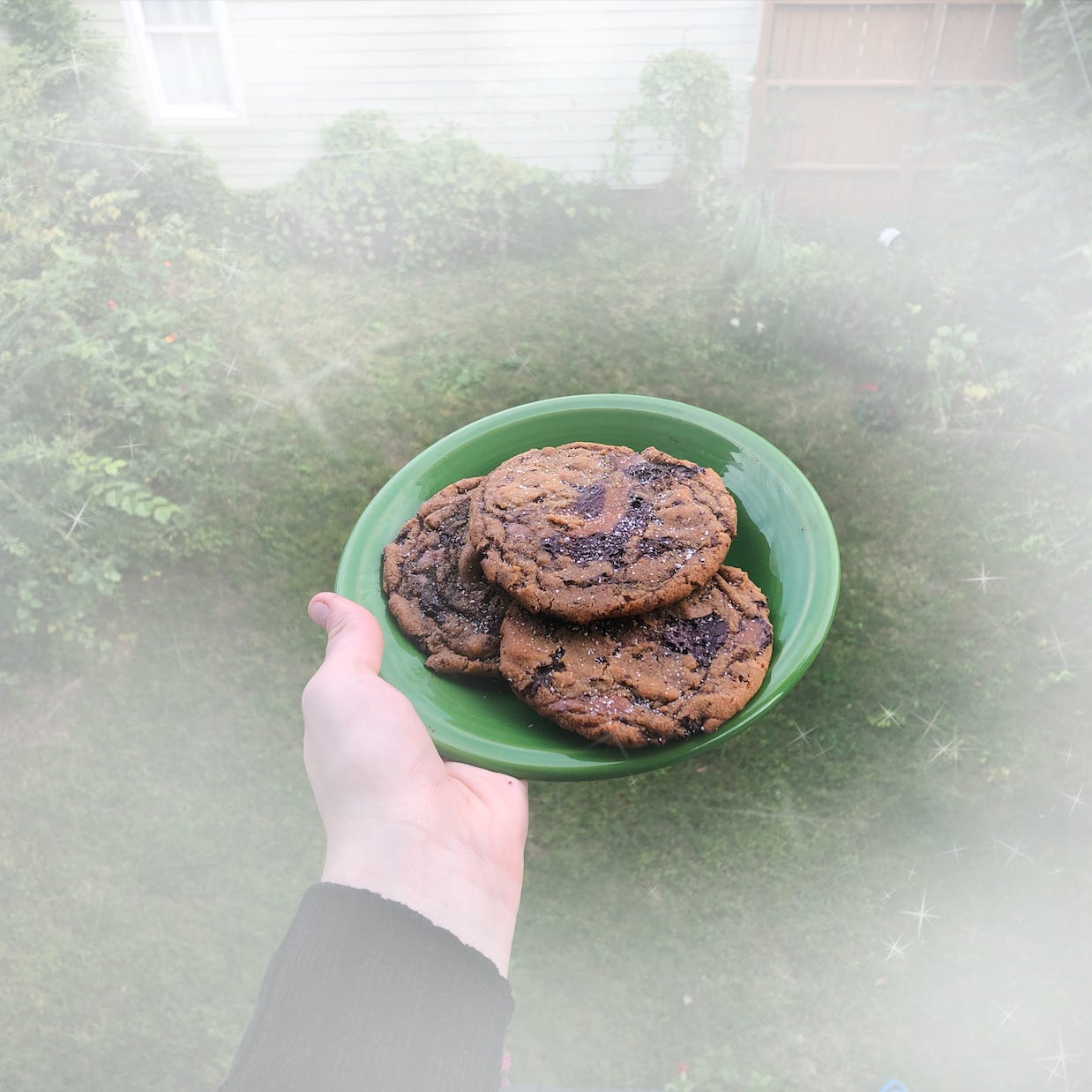 Ingredients:
1/2 cup (112 g) white sugar
1 cup (220 g) dark brown sugar
1/2 cup (1 stick) butter
1 egg, 1 egg yolk
2 tsp vanilla
1 1/2 cups (220 g) all-purpose flour
1 1/2 tsp baking soda
1/2 - 3/4 tsp salt
heaping 2/3 cups (5.5 oz) chopped chocolate
for the praline (adapted from The Joy of Cooking)
This method for making praline is the most basic way I've found to do it. You can certainly substitute store-bought praline paste, but if you have a food processor and a kitchen thermometer, this is the way to go
.
1/2 cup blanched hazelnuts
1/2 cup (112 g) white sugar
1/4 cup water
pinch of cream of tartar
In a small saucepan, melt the butter until the foaming subsides, stirring consistently. The butter will become an amber color and smell delicious.

Mix the butter in with the sugars until it's a homogenous mixture. Add the egg, egg yolk, and vanilla. Mix until it's a thick syrupy texture. I do all of this in a standing mixer, but you can also do this with a handheld mixer or by hand.

In a separate bowl, mix together the flour, baking soda, and salt. Depending on what kind of salt you're using, you may want to flex the measurements (ie: if your salt is saltier, lean on the 1/2 tsp side; or if you're my roommate Sophie, salt it up).

Add the dry ingredient mixture to the wet. Then, stir in the chocolate.

Crucial step alert: this dough needs to chill! This allows it to come together and solidify fully, develop flavor, etc. I try to push myself to do this for at least an hour, but often I'll leave overnight. That's the best.

for the praline: Combine the sugar, water, and cream of tartar in a heavy saucepan on medium heat. Stir until sugar is fully dissolved. Increase heat and bring mixture to a boil (no stirring!), until it reaches 365°F. Add the hazelnuts and stir. Once the hazelnuts are fully coated, turn them out onto a baking sheet lined with parchment paper in an even layer. Let cool completely. Add to a food processor and pulverize until it becomes an even caramel-like paste (this may take giving your food processor a few breaks). Add to the fridge next to your dough to chill.

to finally bake: Preheat the oven to 350°F. I usually like to make about 3 tbsp size balls of dough, halve them, add ~1 tsp of praline, and smush it back together. Put these balls a few inches apart on a baking sheet lined with parchment paper and place on a middle rack in the oven. My oven seems a little weak, so I usually cook them for about 16 minutes, but you may only need as little as 12 minutes. Keep a watch out! At the end of the time in the oven (the color will start becoming deeper, as seen in the picture), I drop the pan down on the rack to flatten the cookies (a trick I learned from the internet). This helps the cookies become crispy on the outside and soft on the inside, which is what we like.

Once the cookies are done, sprinkle some flake salt, or whatever you've got around, on top. Let cool for at least 5 minutes.
⋆ I think it's important to note that I usually measure my ingredients by weight, where appropriate. This is a) easier and b) more accurate. So, if you have the means, I suggest measuring this way too!
✻
foot notes
on mushrooms + foraging …
a registry of mushrooms in High Renaissance works of art compiled by the North American Mycology Association

I came across this website when trying to find out if there were any notable depictions of mushrooms in Renaissance art (I'm taking a class right now on the Northern Renaissance, so I'm attempting to merge my interests together). It made me smile to think about some mycology scholars searching for mushrooms in art, just as they would in the woods.

"Reclaiming the City: The Foragers of Burgess Park" by Isabella O'Carroll

This piece showed up in my inbox as a part of the Vittles newsletter. In it, O'Carroll writes a history and portrait of the foraging culture in Burgess Park in London, highlighting the many contexts for why people forage. This one spoke to my experience:

For some of the people he spoke to, foraging had a profound psychological impact. "This meditative state they get into when they're foraging, they actually forget where they are," he says, adding that quite a few people reported a feeling of a calming "harvesting mentality". The likelihood of being able to feed substantial numbers of people through urban foraging is low, but one of its central aspects is that it reframes our understanding of space.

Alexis Nikole Nelson (or @blackforager on Instagram)

Following Alexis has taught me so much about foraging — including how foraging laws were often put in place to disenfranchise black and indigenous folks, as well as the environmental ethics on picking different plants: understanding what you're taking and knowing the impact.
otherwise …
mossy bed, a mix by JS for Interior Space on Dublab

This mix hit me in a surprising way this week …

Part art book, part cookbook, Dimes Times - Emotional Eating has now become a little treasure for me. The recipes are playfully organized by time-of-day and offer some pretty interesting takes on casual cooking. Some of my favorite recipes thus far have been: Sweet Porridge, Freekeh Pilaf, Turmeric Cashew Cream, and Maitake Relish. My roommates, Jess and Sophie, have made the pickling recipe probably five times in the past 2 weeks.
✻
I hope to send a note to you once a week or so. I'm anticipating the appropriate frequency will become apparent as I write and think. Matt and I are working on the concept and design for our larger Food Notes project. Although I don't anticipate this launching for several months, I'm hoping to share our progress in future notes. This will be a space that you can all be a part of, and that potential is really exciting for me.
Please feel free to send me any thoughts you are having related to food or otherwise, I'd love to tailor my notes to what is floating around in your minds too. Also, I'm trying to learn to love squash, so if anyone has any tips or secrets, please share! I need it.
✻
Liza